Perfect Bound Book Printing
Perfect bound books have a high-quality, professional paperback appearance and are great for printing high page count books. Though they can obviously be used for self-publish fiction or non fiction books, they can also be used for more business-minded ventures, such as:
Product catalogs

Employee handbooks

Instruction manuals

Training manuals

Reference guides
And more
Available sizes for perfect bound book printing range from as small as 4" x 6" to as large as 9" x 12". Print bound books with spines as thin as .10" up to 2" thick. If the spine is sufficiently thick, you can also add a design and copy to the spine of the book, such as the title and author name.
To print book sizes larger or smaller than stated above, or for quantities greater than 5,000, please request a custom quote.
Please note the following file setup tips and requirements when setting up your documents:
These are the minimum and maximum dimensions for perfect bound books.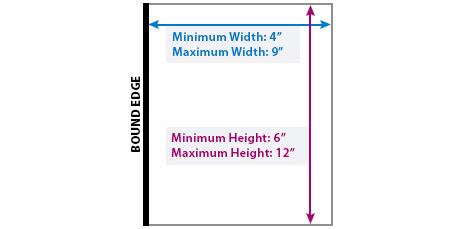 Please note that the finished size is

Width X Height

. Perfect bound books are always assumed to be bound on the height dimension.

Please enter the total number of sheets (not sides of paper), plus two for the cover.

Paper thickness affects the thickness of the book; our perfect bound books have a max thickness of 2" inches. The spine calculator will help you to know when your page count and stock selection has resulted in a too-thick book.




Please submit two print ready PDFs for your book design - one for your book cover, and one for its interior pages:

Cover art should be submitted as one PDF with two joined spreads for the exterior & interior. Please use the estimated spine thickness to create your spine art, as calculated by your stock selection and sheet count entered in the quote. Include this estimated width in the total spread, leaving the interior gutter blank of any printing for the glue to adhere to the cover.

Please submit a single PDF for interior pages with each page in correct succession. Your document should have twice as many pages as sheets ordered, i.e. sheet is equal to 2 pages; if you are ordering a book with 22 interior sheets, then your document should contain 44 single pages. You can add blank pages as necessary to make page count.

Make each page of your document the same size as what is being ordered.

Be sure to include an additional 1/8" bleed on all 4 sides of the page, as well as 3/8" text/image safety margin on the spine edge and a 1/4" on all 3 outer edges of each interior page.
If you are planning to publish and sell your book, you will need both an ISBN number for your book, as well as a UPC or barcode for retail use. You can obtain both of these by going to http://www.isbn.org, where you will have options to purchase simply the ISBN, or the ISBN and barcode as a unit. If you already have the ISBN and simply need the barcode, another option would be here: http://www.gs1us.org.
TBGprint offers a selection of book and booklet printing options, including saddle stitch, spiral bound, and wire coil.
Don't see the paper stock, or finishing options you need here? Submit a custom quote!
Request Paper Samples

